the word 'youth', with its increasing number of loosely termed definitions, has doubtless become a popular tool to catapult an immediate spark by organizations/groups. 'lively' and 'carefree' are among two instant associations that can be found when the word 'youth' flashes over one's sight or hearing, which are desirable qualities that everyone in general possesses the will to never part with. there is no denying that the word youth often automatically evokes images of wrinkle-free women (yes, my putting the word
women
is not out of arbitrary intentions) with sleek hair projecting healthy shine despite the commonly used and supposedly encouraging phrase "young at heart" or sentences similar to "youth is not about age" whose frequency has at recent times shot through the roof.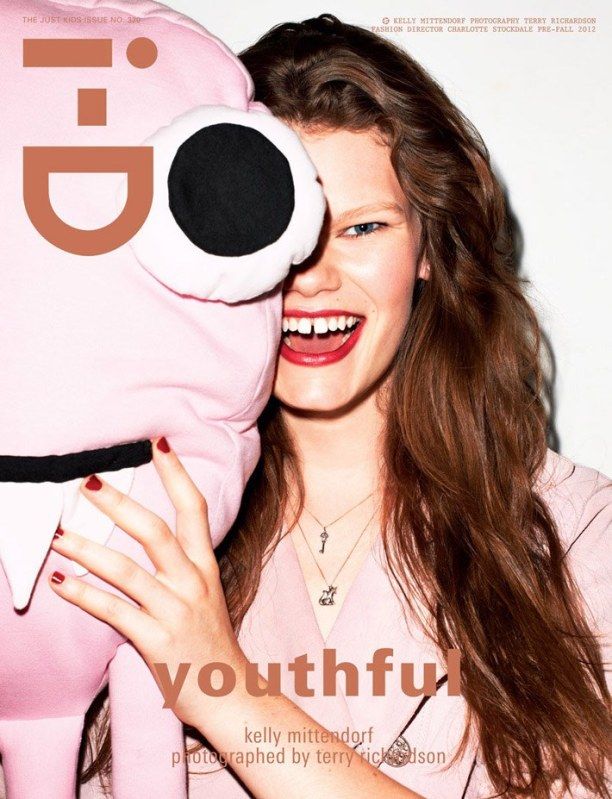 this optimistic take in viewing the word 'youth' of course is accompanied by the best of intentions and should probably continue to be extolled, but with the awareness that the discrepancy between what we want the word 'youth' to mean and the actual projection of the word is too great it may seem too hypocritical or at least too naive of us to bestow the youth status upon the "young at heart". the usage of such phrase often sends out unintentional, subliminal pity, completely neglectful of the fact that the truly young will also reach there before too long.
the relentless foray of the word usage and the cliche-y addition of non-physical attachment to the meaning of the word should not, in many cases, prevent the excitement hovering around this
i-D
magazine cover series. for their 'just kids' edition an army of photographers (including the king of fame/infamy terry richardson) and models (included, coincidentally paired with the controversial photographer, is charlotte free, whose dip dye hair has enjoyed a massive devotion & following from fans and non-fans). i decided to omit their 'quotes' on youth as i figure it is not more than anything you have heard or known. it's youth. its job is just to keep the ball rolling.