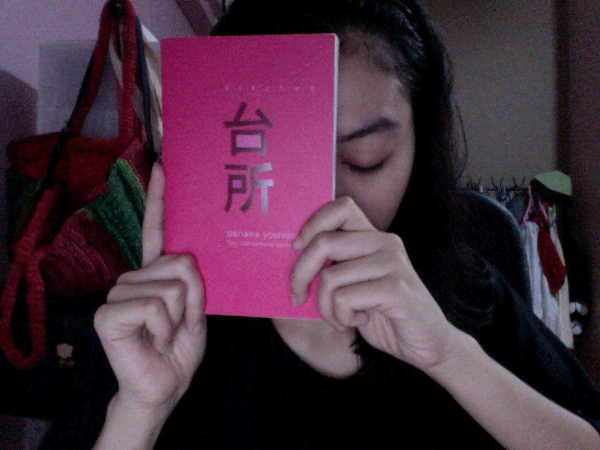 kitchen by banana yoshimoto
i backlogged a lot of reading and writing
there are three books that i have finished and have not written anything about despite my mounting interests/thoughts on them
this is to kickstart it all
i did not know why i had expected so much out of this book
perhaps because i glimpsed at several quotes from of the author's other books and liked them
perhaps it was the author's very name that intrigued me
perhaps it was the pretty shade of the book cover
(i do not have much luck with japanese authors including this but i am going to try natsume sasuki maybe, in future
feel 'ok' toward murakami's works, not going to read 1q84, would rather read orwell's 1984)
two unrelated 'stories' comprise kitchen. the first one, titled the same as the book title, talks about deaths that surround a person and how she takes them in
she meets another man who is only related to her in two ways: he used to work for her late grandmother and like her, deaths are surrounding him too
it is not a matter of how many deaths are coming in tangent with the characters' lives, or how many deaths it takes for each to break down, in hot shower, in the lonesome sofa; but how the pang of the late people's significance starts to dawn on these characters and how they embrace the craters caused by deaths, the holes and the gaps, the realization that they are not obliged to have those gaps filled in, and that 'life goes on' and there are other people they share the planet with and it takes varied amount of time for each person.
As we decided where to meet, I looked up at the window. The sky outside was a dull gray. Waves of clouds were being pushed around by the wind with amazing force. In this world there is no place for sadness. No place; not one.
the second story, 'moonlight shadow' is slightly preferable to me. the main character has also just lost an important person (in this case, her boyfriend) and how she takes it harder than anyone else except his boyfriend's brother who has also experienced a loss of his girlfriend (both die in the same accident). it is a slow account of 'moving on', almost akin to the first one. but in the second story a 'mysterious woman' with 'distinguishable aura' approaches the main character to show her a 'miracle' (by this part i rolled my eyes and thought, shoujo manga, errr) and finally grants her an opportunity to properly say goodbye to her boyfriend.
i think the parts where the stories etch some marks on their readers is when the authors attach specific characteristic/habit/preference to each character, eg in the first story, mikage and her affinity with kitchen, in the second story, hiiragi and his habit of wearing his late girlfriend's uniform
i feel neutral toward the 'writing style' and the book in general