instax. that poor little thing that has once or twice been aggressively attacked by internet rage. a rage that often takes form of a real breathing entity--a hatred-absorbing, emotionally consuming rage.
ever come across a polaroid =/= instax post or jpg on tumblr? i still don't have with me a full understanding of it... although there are some people who still name their albums containing scans of instax pictures 'polaroid' (and i'd like to believe that the previously mentioned jpg is directed towards these people), there is also a portion of internet audience who do acknowledge the differences between the two. and we still think that the differences do not always grant one an absolute power over the other--sure, polaroid is great, but i love instax too.
initially i stood a true blue stance on polaroid's side. but reeling a friend into buying one AND subsequently witnessing her
selling that brand-new vintage camera
because of several considerations sort of shed a light on me. rare and expensive films (that
impossible
thing ain't of much possible help to her) take up a major responsibility for her decision, but mostly i think some people just grow past the 'dreamy' pictures stage. it's fine if you have not, or will not and never intend to enact the same change. i'm one of you, anyway.
so i discovered a sudden desire for an instax camera afterwards. no matter how much i tried to deny that my decision was fueled by my friend's not-so-happy times with her polaroid, i must admit that there was a certain correlation present there. and aside from its hideous body design, i appreciate
my instax results
as much as the polaroid ones. slightly faded lines that make the objects blend into background, softer colors that tame down loud details, i think instax pictures are beautifully nuanced in their own way, without doing the objects much distortion. they are not polaroids. that makes them a popular alternative medium for fashion photography, and i am glad that some people have come into almost full acceptance of instax pictures.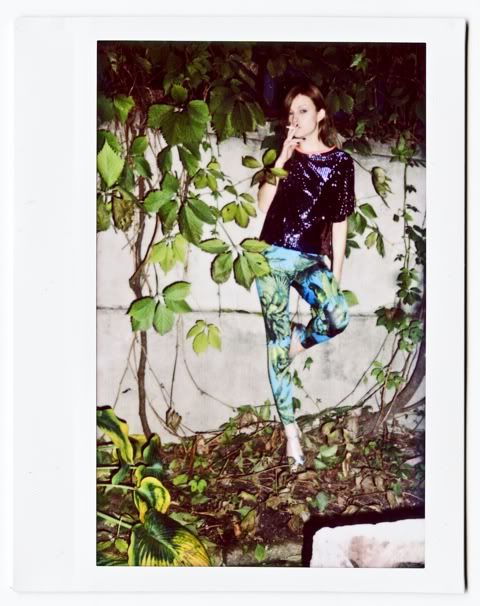 and then, another high-street x high-end fashion collaboration.
recently the whole internet (or at least my version of internet) had been shaken almost ragingly by a collaborative collection
by
versace
for
h&m--and as if that was not enough, the real-life version of this hype managed to take h&m's only branch in Singapore by storm.
i feel like, examples to illustrate the enthusiasm are unnecessary because they are so evident everywhere (endless runway pictures of the show, glossy reviews on the official launching, varicolored paper bracelets worn by people queueing in front of h&m singapore), i don't feel like there's a need to add another unimportant view of the (i'd just utter here very briefly) awesome collection to the virtual collective of raving reviews outside. oui, i succumbed to the majority. i mean, i am a fervent fan of prints and colors (tropical and vintage feels just waved us hi)…need i say more of my opinion on the collection?
if anything, i guess i'd say that this versace for h&m collection does not falter the enthusiasm for
h&m spring 2012 collection
. each caters to a different audience, although there are some who covet them with similar intensities (eg me)...
and here are the rest of
Karolina Słota
's take on versace for h&m collection, styled by
Azra Szpura
featuring Viktoria Rutkowska. obviously taken with instax, baby.