.....so TA-DAH! as promised, current shoes.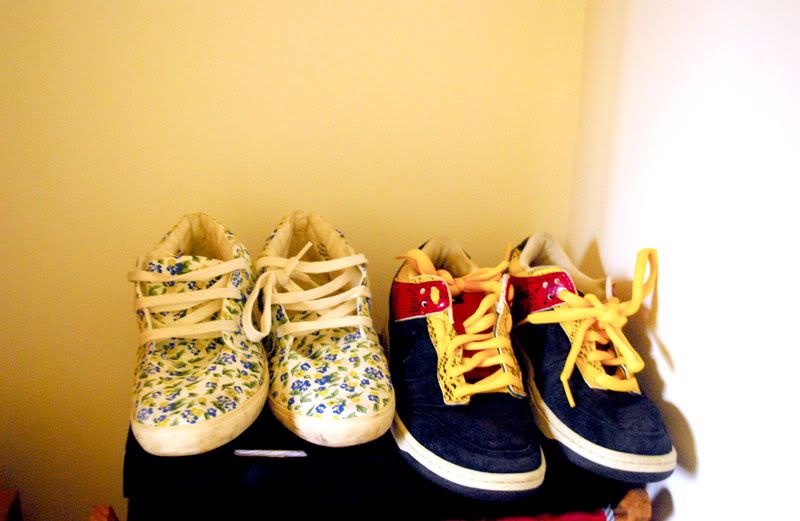 The notorious sneakers duo... People've been mentioning other brands, saying (indirectly) that mine are obsolete but I can't really fall for the others. The left ones are my favourite whimsy pair! I don't really fancy flowers (prints) but I like these petite ones in blue. FYI this pair does make legs look fatty so several adjustments to outfit are required...the right pair is also likeable, to me..it's of primary colours so it adds instant pop-up effects to basic shapes. In addition, it's in suede(!!!) and splattered with (faux, I think) snakeskin on the edges.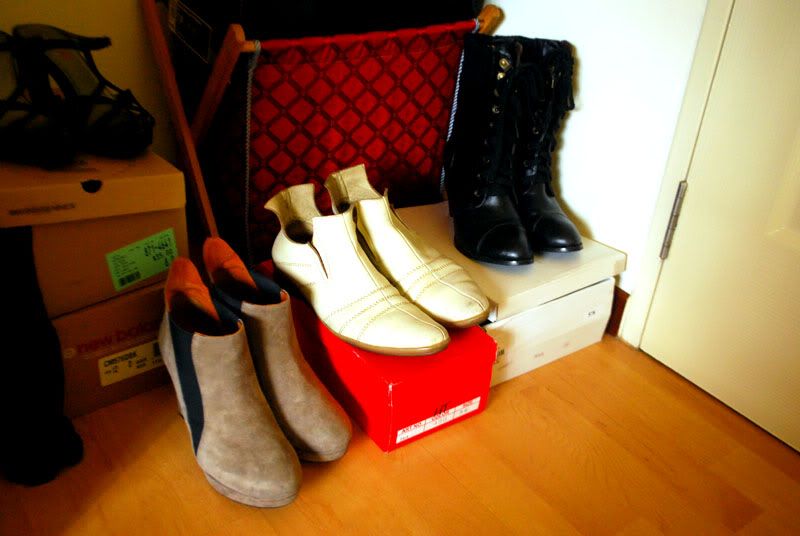 These are the essentials, Earth-toned and finely characterised pieces I treasure very much.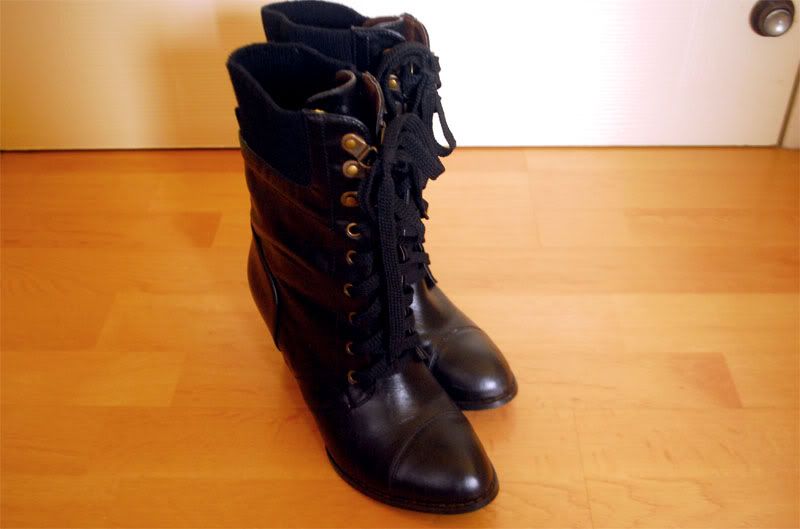 I never regret spending my pennies on these. Cheap boots woot woot! Who could deny? They're also quite easy to slip in, so far they're perfect for dancing/strolling around. I still wish they came as wedges or platform boots though, I'd love to walk more miles in them. I wonder if it's risky/costly to make such alteration...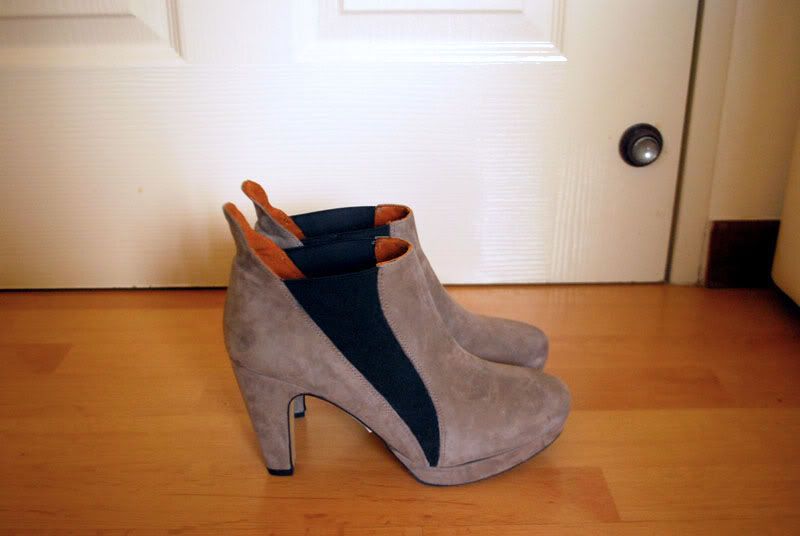 These are probably the most comfortable platform shoes I've ever let my feet enjoy drowning in. I don't seem to have much luck with others so most of them sadly end up discarded in my shoes closet. Basically I haven't really tried many, some of them either have too pointy ends (which I quickly shunned without valid reasons) or funny details. These are made of reallly good suede and leather-skin lining. Perfectly structured with quite sturdy soles that are enough to make people faint when getting hit by them. I got these a few months ago and a lot of effort was being put in at that time... I remember I had to go to many branches just for this pair. Now it's paid off, fortunately!
This pair, literally, has been my feet's most sincere companion since a few years ago. When Mum first bought these I thought it was a major waste of money for such mediocrity. Then I began to embrace them wholeheartedly and thought these are one lucrative investment.... They are so durable (look at the beaten leather) and often enhance one's whole look effortlessly. Couldn't beat Mum's ability to spot good stuff at that time. I must admit I've learnt a lot from her. :D
I don't currently have good shots of the sandals at the left, if you want a better look you could go
here
. As you might expect, it's the gaps between the soles that caught my attention.
There are other shoes I haven't best captured yet, which keep their own stories... Likewise, yours have their own too :)
I've noticed my blog's been in such a gloomy state so I hope this could splash some favourable change!