When I first welcomed its visit to my ear, this band's name did not ring any bell.
The Trees And The Wild
--to me, sounds more like an eco-oriented title when I first heard the name. I've been practically following their music for quite a period of time, but it was an 'on-off' relationship since I kept switching to other music too. NOT until I came and witnessed their dynamite performance. Their music sounds as sharp as snowflake and as relaxing as ocean wave. Often begins with gorgeous lush-swirling sound, tropicana sensation that is perfect not only for quiet, summer beachy breeze, but autumn chill in the forest too. A few layers are gradually built--the ensemble of guitar and other instruments--thrilling in the middle--and usually topped off with a perfectly-timed, anticipated pause. The twanging of the guitar tickles your ears and soon enough, the pattern gets stuck and resounds in your mind.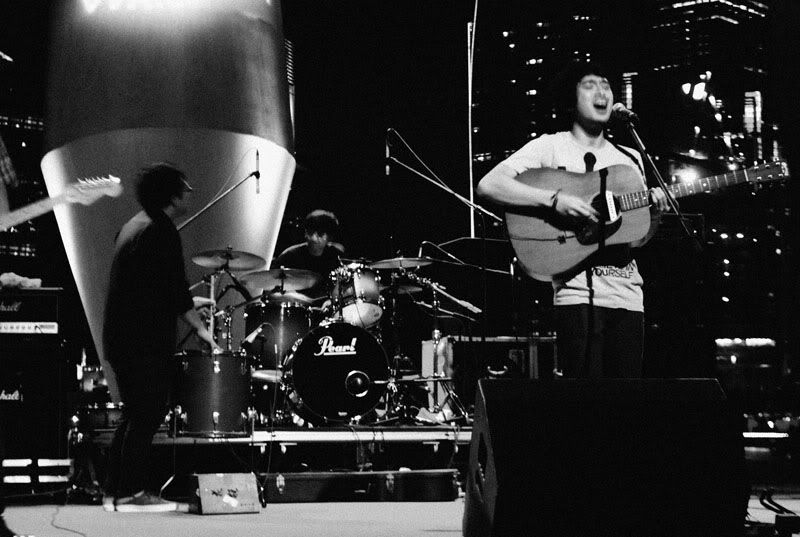 I'm not using comparison to elaborate more, I think it's cruel to try so hard revealing their true influences and comparing them to other bands subsequently. Let them explore and make their own music. Oh and you've just got to see their LIVE performance! The one I saw was BEYOND awesome, zillion times more entertaining than just a radio play-out. The sound system really kicked ass--painlessly-- and the river breeze just made everything perfect. Besides, you could clearly make distinction between each layer during the live performance. This was just an introduction, I know. When they come back I hope people will be ready to sing along and chant to the chorus together. :D
After attending the show at Waterfront Esplanade, my troop set off to another gig at Singapore Art Museum, with White Shoes And The Couples Company as guest star. Another exquisite performance. Another overwhelming night. Met
Debra Raymond
along the way, with her sweet boyfriend. If I were to say "I love Singapore" at that time, I would really mean it. Cool.
P.S: I suck at live photography. Please bear that in mind..