Kids are...incomprehensible. Very well they are. I wish I had understood myself much better back then.
This was made very clear when I purchased a
Cereal Nation backpack
. It turned out to be small, I mean INTOLERABLY small, with its minute straps hugging my shoulders in a very funny way. Wearing it outside would only prove my vehement denial of my post-adolescent age, unless I decided to alter the straps, or replace them with new ones--which I did, but never managed to realize...for I lost the bag long before any chance for proper amendments becomes possible. Sobs. I really liked the spare, unusual pattern of leopard. So ticklishly cute.
But a good friend of mine,
Nanda Soraya
, who bought the same bag, made a more logical decision: she gave it to her infant cousin. Lucky daughter of a mother. Exclamation marks.
But she certainly did not feel the same uprush of excitement, the same jolt of elation--it was a fugly backpack to her-- while we the young adults drool with excessive envy when being around him and the bag.
Lesson learnt? Our taste often does not correspond to children's taste. Certainly they do not see things as we do. I mean people have different taste, but children live in another world. Or maybe we simply have bad taste. Maybe we are conditioned, by our environment, to have a certain taste, so that the joyous scream of eureka ('kawaii!') comes as cohesive and united as sticky power glue.
So when I came across
VERY FRENCH GANGSTERS
sunglasses....you can jolly well guess the several thoughts fiddling around in my brain: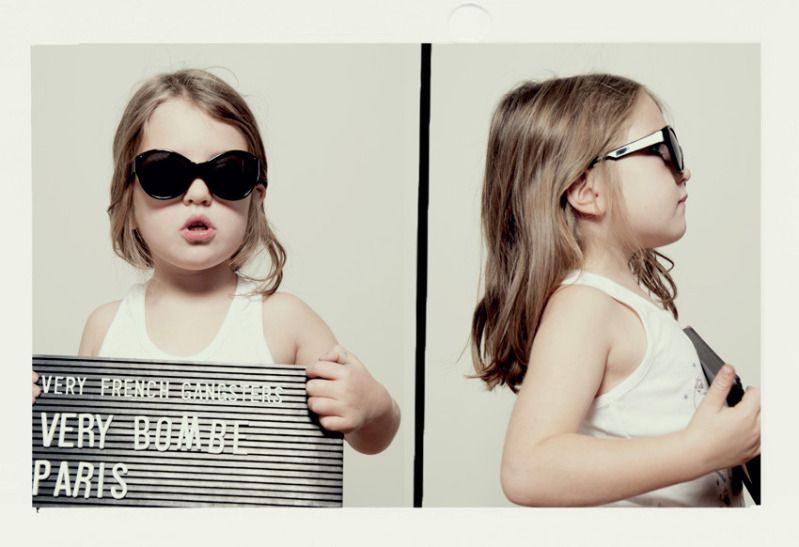 1) I WANT THOSE.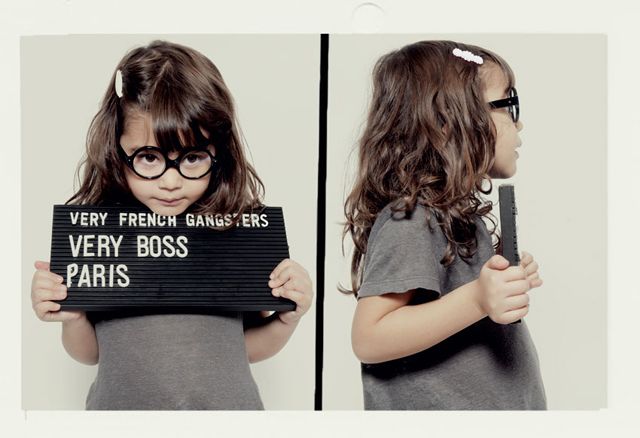 4) (No way; no they won't.)
5) The kids won't wear it.
6) The kids won't get it.
What a waste. Unless maybe shown a picture of their cutesy crowd looking better in these glasses. They might be moved.
Maybe if we keep feeding the kids with this stuff, and lauding them with fits of laughter and ear-to-ear smile, they would eventually get it. Otherwise we should just wait and watch them grow regretting their callow undeveloped taste.
And again who surfs the web and stumbles upon this engrossing discovery? I believe it's the adults. With kids or without kids.
(I'm here not to argue about definition of good taste or the debate on good taste vs bad taste. This is a shallow generalization based on one sample case, hence is supposed to be taken from a slightly humorous, lightly ironic perspective. I remain liberal regarding any issue on taste.)