most of the time when it comes to shopping, or some very much needed quick wardrobe fix, or most importantly: an indispensable festive moment when the 'sale' labels happily tag along with things that often otherwise i couldn't afford; the timing is divided into two main subcategories: the 'OMG JUST IN TIME!!!' or the 'shit, i can't believe what i just missed.'
with
collina strada
the case pretty much belonged to the second one, with me missing the whole sale period of
a curious teepee
's moving out sale…of course the whole sale deck was also filled with other lovely razzle-dazzles, but the bag more or less outshone the others. now what i can do to elevate my unfit mood via post-missing-sale-depression is to write about their products and patiently wait for a curious teepee online shop…
it has already perhaps been an outdated idea for us consumers to think that beauty and eco-friendliness would never ever have a plentiful area of intersection should they be represented in a venn diagram. now is time to throw those obsolete doctrines away. collina strada is one of those labels that could very well be a real-life example of the rise of eco-friendly stylish goods. (now scratch the phrase from your list of oxymorons!)
the brand's collections have been quite anticipated largely due to their already strongly rooted signature recycled leather panels in such practical and sturdy designs, without being rigid and overly solemn. usage of patterned fabrics is one of the way to jazz collina strada bags up, and that's why it is also fun.
transitions are quite evident throughout their collections
—
a progress i would say
—
which consistently offered something fresh each season without discarding their main details.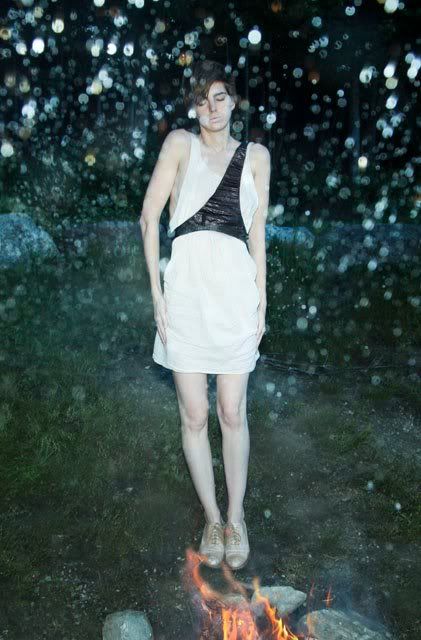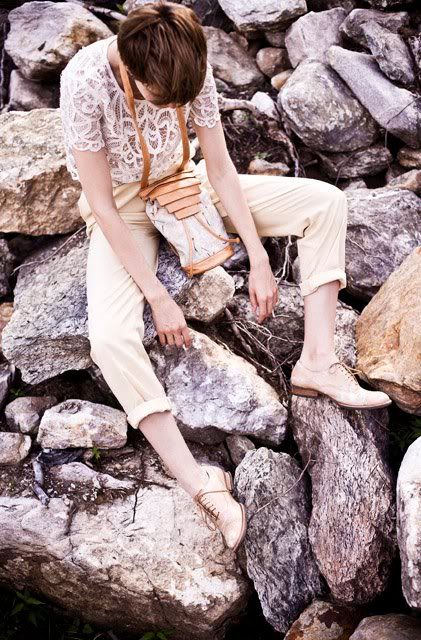 their spring 2011 collection speaks much of nature, as if depicting their goal to merge elements of beauty and eco-friendliness together. the backpack, bike bag, and bucket bag from this collection stand still as a favorite of mine. dominant colors and pattern are those that could chameleon themselves into all those soft woods. besides bag collection here collina strada has also introduces their accessories line--comprising of vests and harnesses featuring their signature leather panels.
the accessories range is put on hold for a while during their fall 2011 collection, focusing more on new designs fabric patterns for some bags. for fall, the lookbook seems to underline the nomadic quality of the products. my three favorite pieces appear again here, in more variants of color (grassy hay-ey tare-y army of army greens), bleachstained denim, black, deep earth brown…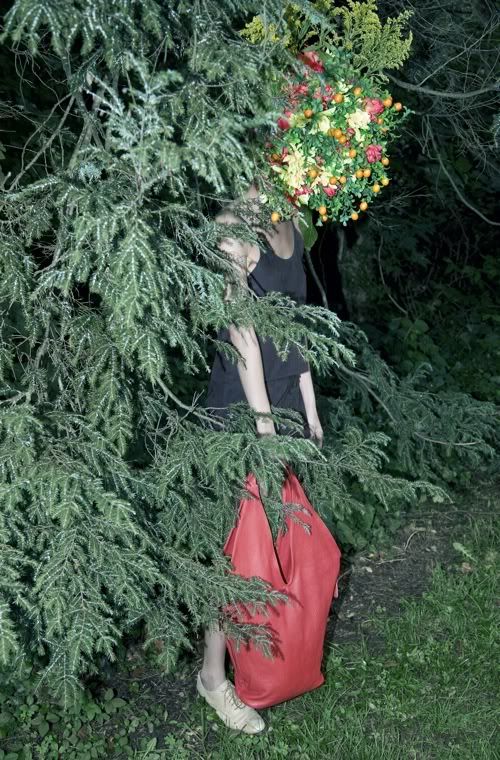 and finally the accessories pieces pop out again in collina strada's winter 2012 collection, and here we're in for a pleasant additional surprise: a whole range of ready-to-wears featuring, yup, their rectangular panels, sometimes boiled down to simpler structures. vests are still made of recycled leather while suede is used for their clothing products. and i think their flowerheaded models are very enticing…or attention-drawing, to say the least.