I have always been a fan of gif, which was the major reason for my joining myspace a few years ago, back in the brighter days--swimming in the vast sea of repeating glitter stickers as intended fatigue-inducing profile background, only to be left unamused and firm on several DIY gif projects. It is something between image and video, and there is no way to stop it, from moving, from invading your sight even when you're not looking. Gif makes it seem like a child's play but with nothing short of tiny intricacies, offering a wild and carefree bewilderment that when successfully implanted, possesses the power to make your day just like that.
Hence when a person craftily marry agile gifs with the magnetic, ever-changing field of interest that is fashion, the result is part whimsical, part novel; this is how, to me, a rather positive cultivation of the 'refusing to grow up' mentality could come into the real picture.*
I only have two with me now, but I pray that the internet god is going to expand this list soon.
Reed + Rader


I could spend an entire day looking at
their website
. It feels ideal. Reed and Rader works hover around pop culture with fancy burst of colors and imagery; dissecting modern themes from pizza, nap time, cats, and of course, fashion. Texture and sightly combinations of jagged and smooth movements are other key elements in their gifs and videos (which I will reserve for another post), bringing humans and vivid colored cartoon characters into a dimension that tickle and persuade us, the audience, to somehow deem it fit for them to execute some activities together.
This particular
'Muse Cheerleader'
series features 10 fashion houses in total, each in their identifying costume and atmosphere, but with festive makeup and giant hairdo never being absent. Therefore, maybe this is the only chance you can see Jil Sander or Celine juxtaposed with clownish childlike grins and dolly make up a la Tsumore Chisato or Meadham Kirchoff. A feast to my eyes.
Meg Gray
The first thing I noticed about
Meg Gray
was how her appearance coordinates very well with her hair. The second thing I noticed was her hair color. She is never Charlotte Free, whose hair color seems like the sole foremost identifier of her (I mean that in a neutral way). On another note, I kept misspelling her last name (not with the British spelling counterpart, but with Ryan--which belongs to a professional movie star sweetheart, Meg Ryan), doing injustice to the first few seconds I spent on google space that should be reserved really for Meg Gray.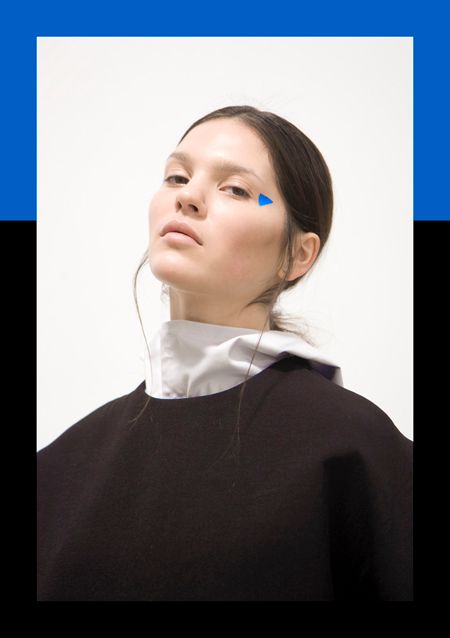 Meg Gray's gif collection is still sparse compared to Reed + Rader, but that's perhaps because of her job as Vogue Australia fashion editor and freelance stylist. Of course they differ on style and everything else too. Her images here picture gifs and unmoving jpegs (so don't wait for too long when you see it not moving, nothing is wrong with your eyes) that fully exhibit her strength on styling. There is a certain theme that you could pick up upon looking at these images--girly novelties but in tame colors (think pastel, neutral, all the way to deeper foresty shades), solid piles of clothing/accessories...which generally only thickens when there is an effect to be achieved.
*) I have been perhaps exposed to too many conversation bits that go around the aforementioned line, which mostly just denotes people's desire to escape responsibility or to blame their current chaining elements (work, parents, etc) that have hindered or slowed down their exploration on their limit of curiosity, and at the same time it also somehow paints a blurry picture of their writhing, a hushed call to other people that is wished to reduce their inability to carry out the necessary acts to better the situation. With time I often see these people just sink further into this blame game. Or it is just another way to express how they could not express the unattainably fast pace of time, in futile hope that it will slow down. It has become the new cliche that I desire to be demolished from my head forever. Just please learn to make gifs if you insist on your refusal of growing old.