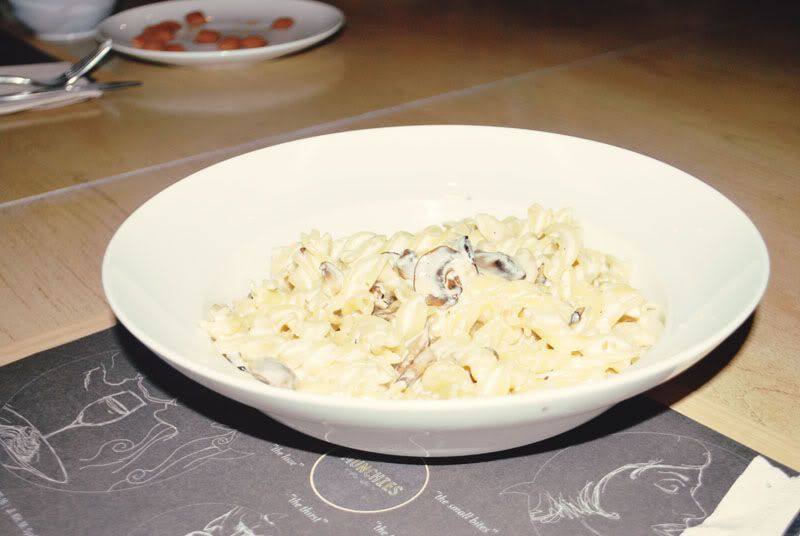 OK, here we go for some real, serious food porn! remember when i wrote here about
the goods cafe
whereby i mentioned my hastily held expectations of the place and how it did not
fully
satisfy them? (with your kind excuse, i shall beforehand mention that such statement obviously lacks a clear objectivity, and is very prone to generalisation, as i have only paid the cafe one single visit. i might be simply unlucky, come to think of it.) anyway, this place really made up for it. the food was good, teehee, as it can be seen here..this is apparently one of those occasions where the pictures really do some justice.
1) farmhouse sandwich
seared striploin on a bed of sauteéd mushroom and a creamy mustard top with melted mozzarella cheese, with vegetables in balsamic and olive oil dressing. quite good, not very good, the salmon tasted rather generic, but the french fries compensated the sandwich.
2) carbonara?
can't remember exactly what it was, but one thing for sure, it was meatless, as it should be, considering it was my vegetarian friend dara's choice. not the best creamy pasta, surely. but the portion was quite gigantic, the pasta was not bad, the cream was not bland, but for a cream pasta it kind of lacked some flavour. truth be told, i've never come across really good cream pasta in jakarta. my school's carbonara can effortlessly outdo any of them at the same price… (fact!) or am i just a sucker for extremely tasty, savoury cream sauce? (asian tongue, duh)
3) junkfood killer
wagyu beef with crispy onion and tomato hollandaise squeezed between two burger buns, my order and my favourite as it filled my stomach to its fullest! ok not only that certainly, the main thing was i liked how the flavour was kept at just the right balance, you could feel tomatoes in the sauce kicking unoverwhelmingly, blending delicately with the already flavourful patty…what a sublime, subtle outburst i had in my mouth! on the downside, i could not see what's so wagyu about the beef, but i did not mind, really. its taste exceeded my expectation, though you should keep in mind that the buns were a little too difficult to slice...so if you don't tolerate breads whose softness cannot match that of a piece of kitchen sponge, i suggest you to just, errr, discard them?
upon entering the restaurant, my friend fidhy mentioned how the interior/the ambient was so me (haha?) but i guess that shall admittedly align with the fact that i DO have a thing for brick walls (partially plastered/non plastered, white painted/red painted, raw/polished), blackboards with pastel-chalked-quotes, sofas (you can't see them here, but there was an adequate array of slouchy sofas you can actually live in…too bad we came in a big group so we had to sit properly on dining chairs like this--which were not bad, either.)
the lighting was fine, the staff was helpful and friendly, the food was great, and priced decently.. (junkfood killer at IDR5k-7k, can't pin down the number exactly.)
alright, alright..you know i am going to cough up this conclusive statement that sums up my whole experience there, but i am going to type it anyway: it's my new favourite dining place in jakarta! that shall mean, without the absence of an essential comfort, i can spend hours and hours here, with or
even
without company...
Munchies Restaurant & Bar
Gandaria City Mall, Kebayoran Lama, Jakarta Selatan, Jakarta, Indonesia
Operating hours: Mon - Fri 11:00 - 22:30, Sat - Sun 11:00 - 01:00