1) Rakumen Japanese Noodle House by WARAKU, Senayan City
Nothing very Japanese about the interior, I feel that it's a slightly failed approach at application of contemporary minimalism. However, I love the little peek at the kitchen provided on either side of the restaurant, and mini stairs which give a sense of subtle elevation.
I ordered
chicken katsu kitsumen with curry gravy
, which the waiter claimed as one of the restaurant's specialties. Served in a HUGE bowl, I was not sure how to finish it at first. The content, however, did not make even half the bowl (typical eh?), yet it was still more than filling for me. Unfortunately I didn't find anything special about the taste, wasn't sure though as I was a Japanese curry virgin. Lighter than Indian curry, the dominant flavour in the gravy was turmeric, if I'm not mistaken. The kitsumen was too big in width for my size, the texture was just OK. For a 70k-80k kitsumen, it was quite disappointing.
My friend, Nanda Soraya, ordered a much better-tasting meal. It was
carbonara udon
, I forgot what the toppings were. I really like the creamy, milky, cheesy gravy,
almost
perfect! I guess it's an acquired taste because Nanda didn't find it good and only managed to eat a quarter of it. (Yes, I finished the rest. :p)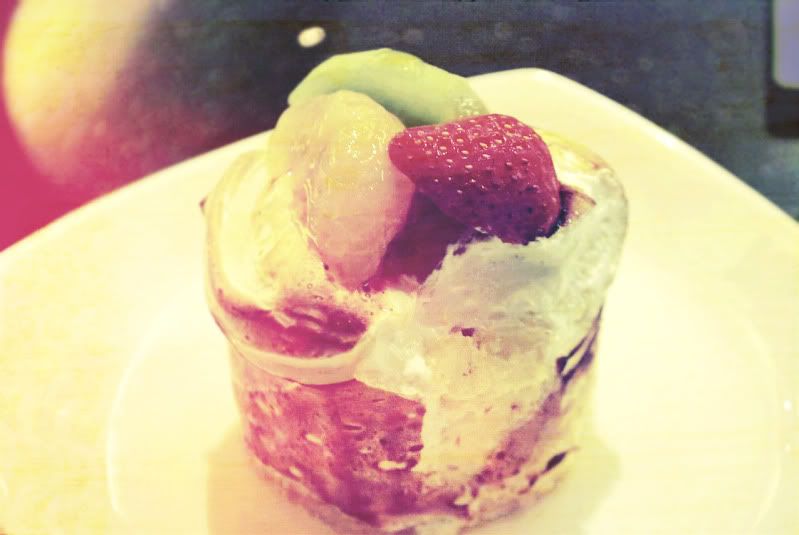 2) Cheesecake Factory
I quite like the ambient, but Nanda said there are other branches whose interiors are better. I really forgot which branch we went to, it was somewhere near.......OK I'm completely clueless when it comes to location...sorry.
I ordered
mixed-fruit cheesecake
there. It was good, but nothing very memorable except the not-so-sweet whipped cream, perhaps.
3) Coffee Toffee, Kemanggisan
This is the place I talked about on the other post. The interior is basic, small space and dim light. The
Irish Creme
was totally good, I'm not much of a coffee lover but the taste really kicked me in. Light, airy, slightly nutty. It had some whiskey in it, blending so smooooothly with the coffee and cream. Not pricey, major satisfaction.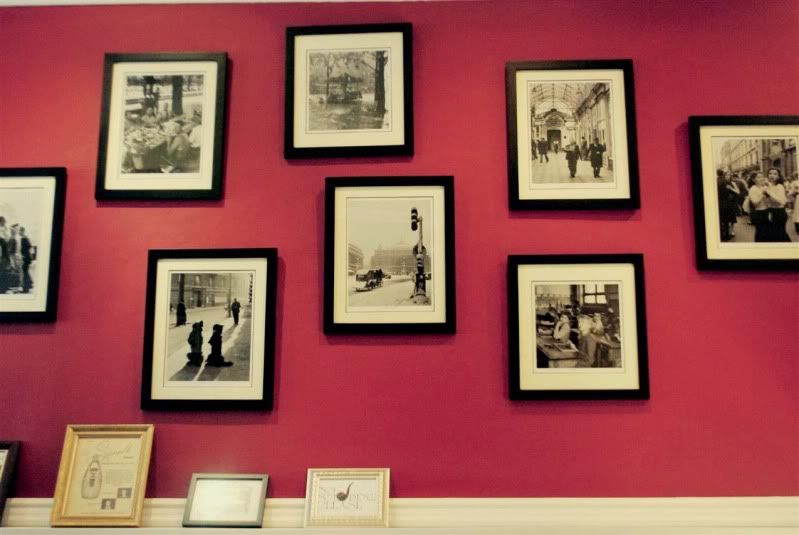 4) Sabang16, Jl. Sabang no.16
Na'ah, this is the hottest topic on twitter right now! It's a no-wonder achievement as everything about this local cafe is so well-aligned. The interior, the feelings and atmosphere it evokes, the maroon wall, the
Vietnamese coffee
, and the superstar
srikaya toast
. The black coffee was very good and it was fun to watch each drop falling from the sieve. The toast was excellent, I particularly like the spongy bread they used. The srikaya toast was home-made hence the taste was not a let-down.
P.S There are still other places I went to during my trip:
Warung Pasta, Roti Bakar Edi, Hong Kong Cafe, Abuba Steak, Red Pepper, Urban Kitchen, Carl's Jr
, etc. I'd probably review some of them in my next post, but I didn't take photos of some others. For now, I'd like to thank everyone who has made this post possible, for being a superbly fine company: Nanda, Rayhan, Rama, Nadine, Gerard, Syandi, Jeje, Avissa, Anandita, Dena, Fidhy and Irvan. Looking forward to make my next vacation there! :-)